The former Vice-Governor of St. Petersburg was charged in the theft
The investigator charged the former Vice-Governor of St. Petersburg Marat Hovhannisyan embezzling 50 million rubles in the construction of the football stadium "Zenit arena".
This is stated in the message of Investigatory Committee of Russia, received on Thursday, November 17, in edition".ru".
During interrogation, the accused refused to testify. In the near future the investigation will go to court for election to it measures of restraint in form of detention.
Previously, on 17 November it was reported about hospitalization of Hovhannisyan. During questioning he told investigators about a bad feeling He had aggravated a chronic disease, in connection with what was called the ambulance, which took the former official in the hospital.
Former Deputy Governor was detained November 16, in the case of fraud in the construction of the football stadium "Zenit arena".
TFR found that in 2014, it was stolen more than 50 million rubles in the contract between the General contractor "Transstroy" and joint-stock company TDM for the supply of screens for the stadium.See also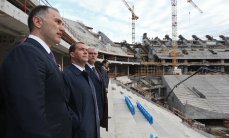 Former Vice-Governor of St. Petersburg suspected of fraud with "Zenit-Arena"
According to investigators, oversaw the construction of the stadium on Krestovsky island Hovhannisyan illegally drew "TDM" as a subcontractor.
After that, he organized the transfer of the firm an advance of nearly $ 50.5 million rubles, which were stolen through firms-a something ephemeral. The consequence considers that the official knew that the subcontractor does not intend to spend money on equipment delivery.
The case involves former Deputy head of the construction Committee of administration of St.-Petersburg Alexander Yanchina, signed the documents for advance payments, the actual head of TDM Grigory Popov and his subordinates Elena Kovalev and Artem Kuspit. As noted, Ancic, Popov and Kovalev actively cooperate with the investigation.
Comments
comments