Inputs 33 metro station in 2017 will cover the eaves with lighting effects
At five stations where the stairs to the entrance of the subway was open, the sheds have already appeared.
Modern awnings over the entrances may appear on 33 stations in the next year. New design of glass and metal will protect from rain and snow stairs, renovated under the program of improvement. Now these sheds are already installed at five stations: "Warsaw", "Chkalovskaya", "Peasant Outpost", "nutty" and "Chertanovskaya".
See also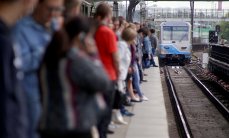 Fines for selfie in the Moscow metro can enter by the summer of 2017
As explained in the press service of the Moscow metro, 33 stations plan to install a total of about 140 shelters (see list). One of the main types of these structures, primarily installed in areas of residential development, called "city Lights". In the evening canopy of glass and metal will Shine like the Windows in the apartment buildings.
The press service noted that the main construction and installation works under the first phase of the programme of improvement was completed by 62 of the 84 stations. More than 80 percent of the originally scheduled amounts on the modernization of the infrastructure of the halls and Publicznych transitions.
"It is planned that the first phase of improvement program will be completed by the end of 2016. For the schedule of works set hour technical and field supervision. In the case of comments the contractors are given provisions for their timely elimination," — said the press service of the Moscow metro.
Now complete the landscaping at the station "Savelovskaya" Serpukhovsko-Timiryazevskaya line. In a short time has expanded from one stair approaches to optimize traffic flow. It is expected that after the appearance of the new station TPK "lower Maslovka" (scheduled to launch in 2018. — Approx. mos.ru), which will change to "Savelovsky", the number of passengers will increase.
Now stair Assembly works normally, and at night, so as not to disturb passengers, there are finishing work on the walls.
The transition has already completely replaced outdoor granite covering a total area of about 1500 square meters, placed a granite plinth around the perimeter of the walls and the tactile plate. Until the end of the year will be installed suspended ceiling that will hide the communications, and installed a new lighting system. The following year, the entrances of the metro station "Savelovskaya" is also covered with canopies.
"After the repair at the entrance to the lobby will install new doors, lightweight stainless steel construction. In the lobby and the transition will see a new navigation and passenger infrastructure, decorated in corporate style of the metro. In addition, the transition zone and the cash lobby will divide through the glass window. Thus, the space of the lobby will be filled with more light," — said the press service. The same stained glass window can be seen today on "Marxist".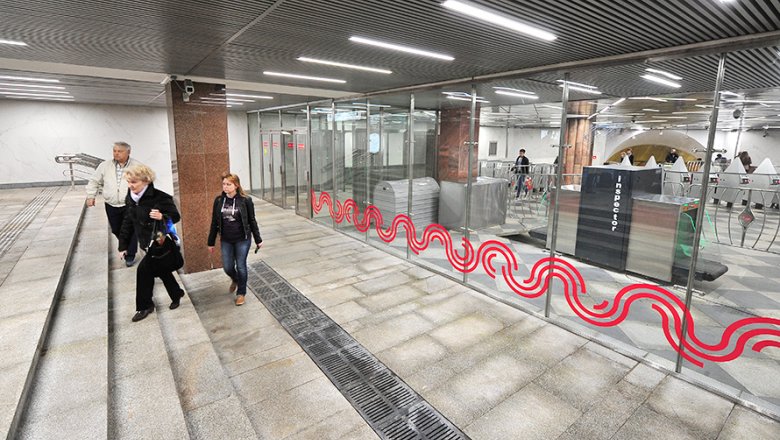 The list of stations where you plan to install awnings in 2017:
"Novogireevo"
"Kozhukhovskaya"
"Marxist"
Kon'kovo
"South-West"
"South"
"Volga"
Domodedovskaya
Polyanka
Pervomayskiy
"New Cheryomushki"
"Nagorno"
"Cross-country"
Sviblovo
"Proletarian"
Serpukhovskaya
Dmitrovskaya
Otradnoe
"Skhodnenskaya"
Yasenevo
"Turgenevskaya"
"Savelovsky"
"The October Field"
"Bibirevo"
"Sevastopol"
"Nakhimovsky prospect"
Tushinskaya
"Tula"
"Kuzminki"
"Tretyakov"
"Tsarina"
Krylatskoe
"Sukharevskaya"
Comments
comments