The Russian delegation arrived on mourning ceremony on the death of Castro
HAVANA, November 29 — RIA Novosti. The Russian delegation headed by the speaker of the state Duma Vyacheslav Volodin has arrived in Cuba to participate in the mourning events on the occasion of the death of the leader of the Cuban revolution Fidel Castro.
The delegation also includes Deputy foreign Minister Sergei Ryabkov, the state Duma Ivan Melnikov (Communist party), Leonid Slutsky (LDPR), Sergei Zheleznyak (United Russia), Dmitry Novikov (CPRF).
Photo essay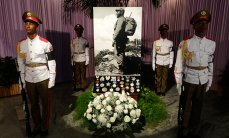 Cuba said goodbye to Fidel Castro
Fidel Castro died at the age of 90 years on Friday, November 25, 22.29 local time (06.29 Saturday GMT). Of his death on state television announced his brother, Cuban leader Raul Castro.
Funeral Castro is scheduled for 4 December in Santiago de Cuba. From November 30 to December 3, urn Castro will take in the whole country — on the way back to the historic March of the Caravan of Freedom led by Fidel Castro in January 1959 after overthrowing the dictatorship of Fulgencio Batista.
The urn containing the ashes of the deceased in the memorial complex named after Jose Marti at the Revolution square.
Comments
comments