The MAC published a report on the investigation into the helicopter crash in Yamal
Upon completion of the work by the Commission will be prepared the final report.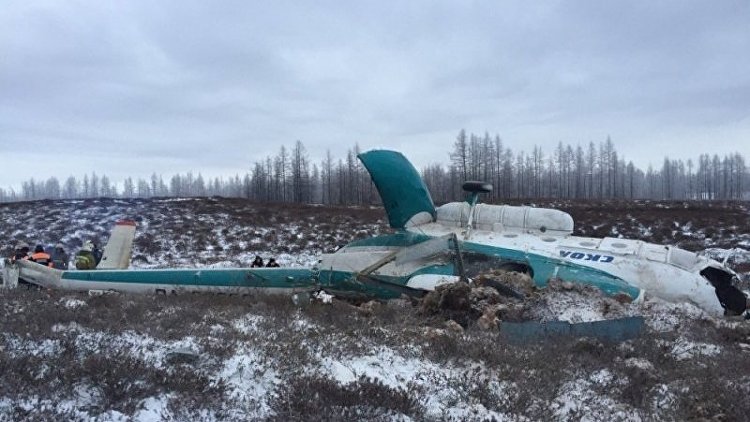 MOSCOW, November 25 — RIA Novosti/Prime. The interstate aviation Committee (POPPY) has published an interim report about the investigation of the crash of helicopter Mi-8 on Yamal, said the Committee.
Helicopter Mi-8 of airline "Skol" fell on October 21 in Purovsky district near the village of Urengoy. On Board were three crew members and 19 passengers. As a result of emergency the entire crew and 16 passengers died. Three other people survived. One of them had been discharged from the hospital. On the fact of wreck of the helicopter opened a criminal case under article "Violation of safety rules of movement and operation of air transport, entailed on imprudence death of two or more persons."
"The Commission continues to work on collecting and analysing information about crew training, evaluation of his actions in the emergency flight, as well as the evaluation of performance of systems and components of the aircraft. Upon completion of the work by the Commission will be prepared the final report", — stated in the message.
It is noted that the failures of the helicopter during the operation period after the last overhaul, which could affect the emergence and development of a special situation is not revealed.
The system of the flight data recorder of the Mi-8, informs the MAC was in working order and recorded setting information of all flights of the helicopter 20 and 21 October 2016, including flight ended accident. However, the analysis of the registered recorder information showed that the individual parameters have large errors, the causes are being investigated. With about half an hour before the collision the helicopter with the earth's surface recording cockpit crew talks ceased due to the exhaustion of the total volume of spokanites, the report said.
It is noted that the actual working time of the crew of the Mi-8 was 8 hours and 50 minutes at the prescribed 6 hours 30 minutes: October 21 the first flight crew was recorded at 07.18 local time, the helicopter crash happened in 15.08.
The experts of the Commission of inquiry also concluded that the location of the main parts of the helicopter at the scene indicates that structural failure of the airframe (separation of parts) in flight on a route did not occur, fire on the ground and in flight was not.
Comments
comments