The foreign Ministry has ruled out conducting propaganda against the EU by Russia
Russia does not conduct "any" propaganda against the European Union. This was stated at a briefing the representative of the Ministry of foreign Affairs of Russia Maria Zakharova, "RIA Novosti", commenting on a resolution to counter the propaganda of third countries, adopted by the European Parliament on November 23.
Zakharova said that the document equates "ostensibly waged against the West propaganda war the Kremlin propaganda techniques banned terrorist organization "Islamic state". Foreign Ministry spokesman stressed that.
If in the European Union there are some internal problems, then the cause of these problems should not be sought in promotion of third parties, and in ourselves.Maria Saharanafrican the representative of the Russian foreign Ministry
On the eve of the representative of the Russian foreign Ministry called the resolution of the EU on the promotion of "information crime" and "a filthy piece of paper," for which "ashamed not to vote for or against, and 200 people just abstained".
The resolution of the European Parliament to counter the propaganda of the third countries specified that Moscow is involved in the financing of European opposition parties and organizations and use intergovernmental relations to divide European society.
In addition, the resolution States that Russia is against the EU "hostile propaganda", which is engaged in the RT, a news Agency Sputnik, the Fund "Russian world" and Rossotrudnichestvo.See also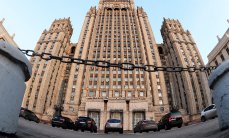 the foreign Ministry called the information crime European Parliament resolution
This document is not binding and is Advisory in nature.
The Agency Sputnik said that the resolution is a restriction of freedom of expression, media and human rights. The chief editor of RT Margarita Simonyan said the channel will continue broadcasting and will provide "the Europeans an alternative point of view."
In turn the President of Russia Vladimir Putin has congratulated journalists of RT and Sputnik for "productive work" and expressed the hope that after the adoption of the resolution, to counter the propaganda will not follow the real restrictions on the media.
Putin hopes that "common sense will prevail".
Comments
comments