The Russian military has developed light-weight portable bed
A lot of new beds is about seven kilograms.
Experts of the Military Academy of logistics behalf of the army General khruleva has developed a new ultra-light portable beds for the Russian military. According to the newspaper "Izvestia", the new beds will replace the outdated folding chairs left by the commandos in the caches in the rear of the enemy.
See also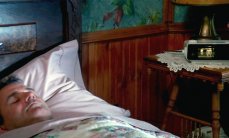 On the left side of the bed sleep healthier
Acting in small groups, the military usually use at sleepovers lightweight sleeping bags. However, the organization of temporary camps for sleep have been used for relatively light beds. They are a variant of the clamshell stainless steel with tubular grid. The mass of such a camp is about 15 pounds.
New easy bed length of less than two meters is designed to provide soldiers in relative comfort in conditions of the field camp, while reducing the overall weight of the cargo per soldier.
Bed, developed by experts of the military Academy, made of duralumin (a durable alloy based on aluminum with the addition of copper, magnesium and manganese).
The total mass of the bed is about seven kilograms. As a bed it uses a lightweight plastic plate. The kit also includes a set of hinged pockets for toiletries and mosquito net. In the fully folded state it is reduced to a small suitcase. When placed in a small room two beds can be redstavleny one another.
Currently, the military are testing the new beds. Planned to be completed until the end of the year.See also Spain has launched a boring channel for insomniacs
From 2017 it is planned to start mass production of ultra-light beds and put them to the troops. According to developers, new beds can be used in field hospitals, because their small mass allows the use of this furniture as a stretcher.
Standard camp bed portable stainless steel has several design flaws. In particular, its moving parts are not protected from dust and dirt and in the field quickly to score, making the use of such beds. In addition, its mass is much smaller than the mass of ordinary barracks bunk beds.
Portable, lightweight bed used in all the armed forces of the world.
In the US, this bed is a frame of duralumin pipes, mounted on cross-shaped pillars of the same material. The durable frame is stretched dense fabric. With a length of 190 cm, width 65 cm and height 40 cm unfolded weight of the bed is 7.5 pounds.
Folded American field bed fit in case length of 100 centimeters and a height of 22 centimetri a depth of 12 inches.
Vasily Sychev
Comments
comments