In Japan believe that the missiles on the Kuril Islands will not affect the negotiations with Russia
TOKYO, 24 Nov — RIA Novosti, Yekaterina Plyasunova. Placing Russian missiles on the Kuril Islands will not affect the negotiations between Russia and Japan, at a press conference on Thursday said the Secretary-General of the Japanese government, Acehide Suga.
"I believe that there is no", — said the Secretary General, answering a question of journalists, will impact the placement of Russian missiles on the island of Kunashir and Iturup on the negotiation process.
Suga also noted that Tokyo plans to hold talks to "reach a solution that would suit both sides."
See also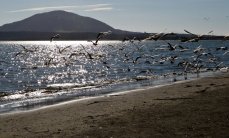 In the Kremlin commented on the deployment of missile systems on Kuril Islands
On Tuesday, the official newspaper of Pacific fleet "Fighting watch" reported that on the Kuril Islands located coastal missile systems (DBK) "Ball" on the island of Kunashir and "Bastion" on the island of Iturup. The personnel of the coastal missile complex "Bastion" is preparing for another fire, the publication reported.
BRK "Bastion" is designed to protect the coast stretching over 600 km. He is able to hit surface ships of different classes and types in conditions of intensive fire and electronic countermeasures. Ammunition one set can include up to 36 missile "Yakhont". Armed with complex "Ball" are anti-ship missiles Kh-35 with range of 120 kilometers.
Japan claims the Islands of Etorofu, Kunashiri, Shikotan and Habomai, referring to bilateral Treatise on trade and borders of 1855. The return of the Islands Tokyo made it a condition of signing a peace Treaty with Russia, which after the Second world war and was not signed. The position of Moscow consists that southern Kuriles became part of the Soviet Union at the end of the Second world war and the Russian sovereignty over them has the appropriate international legal formalization.
Comments
comments