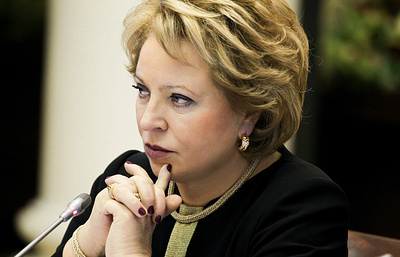 Photo:
© Press service of the Federation Council
Russia does not need a top-down ideology and the national idea based on patriotism. This opinion was expressed in an interview with TASS the speaker of the Federation Council Valentina Matvienko.
The Senator noted that "in any country in the course of history, a system of values," moral authority, traditions that become part of people's spiritual life. "She's not coming down the power top, and is formed within the society", – said Matvienko, adding that "the national idea, which is quite a lot and often say just what unites people, unites the society."
"And in this sense I agree with the President that today, this national idea is patriotism," – said Matvienko. Patriotism, she said, "not politicized, it does not represent the interests of one or another party in one or other social stratum", but "unites all who consider Russia their homeland". "And there is no compulsion – you must be a patriot – every man freely determines his choice", – said the head of the Federation Council.
According to the Chairman of the upper house of Parliament, "patriotism is the love for their land, their homeland, their family, their Homeland". "And all those who share these values, consider themselves patriots. So I guess now we have to talk about this national idea, to develop it, and no forced ideology, top-down, should not be, in my opinion," she concluded.
Earlier, Russian President Vladimir Putin said that in Russia there can be no other unifying idea, in addition to patriotism, which "is a national idea". The head of state stressed that the implementation of the national idea it is not enough for the President or anyone else about it once said "need to constantly speak at all levels".
Comments
comments