The President reacted to the flight of Russian liner Swiss fighters
Russian President Vladimir Putin proposed to consider the fighters of the Swiss air force, flown by Russian government liner, an honorary escort.
As reported the correspondent of".ru" the head of state said at the summit of the Asia-Pacific economic cooperation (APEC) in Peru.
"We consider it an honorary escort," said Putin, answering a corresponding question of journalists.
On 19 November the Ministry of defence of Switzerland said that the fighter jets that flew beside a Russian government plane, performed regular checks. The press-Secretary of Department explained that this is done about 400 times a year in order to clarify the identity of the aircraft to foreign governments.
"It's like police patrols on the street check the machine to make sure that it is not stolen," he said.
November 18 fighter jets of the Swiss air force escorted the aircraft of a special squad "Russia", which was flying through the airspace of this country.
See also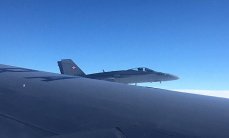 Moscow had asked Switzerland to explain the incident with the Russian plane
On Board the Il-96−300 were members of the presidential delegations and journalists. The crew assured the passengers that this escort regularly practiced in a number of ways.
According to eyewitnesses, one of the fighters flew to the plane so close that you could see not only the Swiss flag on the tail, the tail number J – 5024, but the face of the pilot.
Then the Il-96 landed to refuel in Lisbon, where it became clear that the aircraft cannot continue the journey due to a malfunction. Later broken the plane was repaired and he flew to Peru. The APEC summit opened in Lima on Saturday, November 19 and culminated Sunday, November 20.
Comments
comments