The media learned the details of the extortion of bribes Ulyukaev
"Rosbalt" has found how events unfolded that led to the arrest of the now former Minister of economic development Alexei Ulyukayev.
The source Agency in law enforcement alleges that the Minister threatened to "Rosneft" not directly, but through the President of a major state Bank.
According to the interlocutor, the speaker already conversations recorded by the FSB when he talked to the Bank Manager, who allegedly was in a fiduciary relationship both with the Minister and with the head of "Rosneft" Igor Sechin. In the discussion, Ulyukayev said that he and his staff have worked hard to prepare the necessary documentation to the transaction on purchase of "Bashneft", "Rosneft" has passed as quickly as possible.
"The speaker was indignant that no thanks for it he, his staff and a number of other individuals received, causing very unhappy," — writes "Rosbalt".See also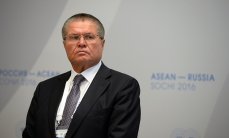 Revenues Alexei Ulyukayev and his family
As the source noted, the Minister said that it is now through its agencies, oil companies should not expect an accelerated pace of work, on the contrary it will be delayed. These words a result in the future regarded as a threat. The President of the Bank allegedly reassured the speaker and promised that I would talk to Sechin.
According to the interlocutor of Agency, almost immediately the head of the MAYOR began to take steps to meet threats, which are backed by witness testimony and recordings of conversations. Investigators also recorded a conversation the speaker and Sechin. The latter, according to the source, said that he conveyed the wishes of the Minister and invited him to come to the office of "Rosneft". The speaker arrived and called Sechin, who said that the delayed, but assured that the Minister will meet.
Together with the meeting the head of Ministry of economic development was held in one of the offices where there were two suitcase. One of them took the speaker personally, and the other helped him carry the employee of security service of Rosneft. When the Minister put the suitcase in the official car, he was detained by the FSB.
The investigative Committee of Russia (TFR) in the night of Tuesday, November 15, announced the arrest of speaker red-handed when receiving a bribe in two million dollars. On the same day the Minister sent under house arrest, and President Vladimir Putin freed him from the post of the MAYOR "in connection with loss of trust".
Comments
comments