Moskalkova sent the request to the Prosecutor of the Republic of Karelia on torture activist Dading in the colony
Moscow. 1 Nov. INTERFAX.RU Commissioner for human rights in the Russian Federation Tatiana Moskalkova took personal control of the situation with possible torture activist Ildar Dading in the Karelian colony.
"I sent the request and spoke personally by telephone with the penal system and keep the situation under personal control," — said Moskalkova, "Interfax".
The Commissioner said that also sent a request to the Prosecutor of the Republic of Karelia.
In addition, Moskalkova turned to the Karelian authorized, in the near future intends to send a colony of the employee of the device, and also communicates with the Public oversight Commission (POC) of the Republic.
Earlier Tuesday, the wife of the Dading Anastasia Zotov wrote on Facebook with reference to the lawyer Alexey Lipcare that the activist in the colony, was beaten and tortured and threatened to kill.
See also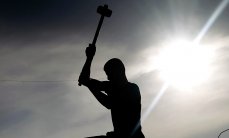 Russia will begin using the new form of criminal punishment
Earlier Zotova reported that Dading, who was convicted for repeated participation in unsanctioned pickets, is in the cooler Karelian colony № 7 in Segezha.
The judge of Basmanny court of Moscow Natalya Dudar 7 December 2015 recognized Dading guilty of incriminated act and appointed the punishment in the form of three years of General regime colony, despite the fact that the state prosecution asked for a year less.
The Moscow city court later reduced the sentence by six months to two and a half years.
According to the materials of the case, Dading has been repeatedly brought to administrative responsibility for participation in opposition rallies — on 6 August, 23 August, 13 September and 5 December 2014.
Dading became the first accused under article 212.1 of the criminal code (repeated violation of the established procedure of organizing or holding meetings, rallies, demonstrations, marches or picketing) after her appearance in the new edition of the criminal code in the summer of 2014.
Comments
comments