Vladimir Putin presented a Russian passport Steven Seagal
Moscow. 25 Nov. INTERFAX.RU — the President of Russia Vladimir Putin has handed over the passport of the citizen of the Russian Federation, U.S. actor Steven Seagal.
"From the beginning we said that if this happens, it will be absolutely depolitization" — recalled the Russian leader of the new citizen of Russia.
See also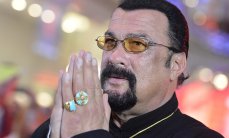 Welcome, sons of the Fatherland! Why foreign stars Russian passport?
In his opinion, the presence of Russian citizenship will facilitate the American actor as the realization of their professional plans, and socializing with friends in Russia.
"I want to congratulate You and to Express the hope that this small, but still the gesture and can be a sign of gradual normalization of our bilateral relations", — Putin said.
The Russian leader also pointed out to the actor without his signature, the passport is invalid and he put his signature on the first page of a Russian passport.
"Thank you," — said the President of the Russian Segal.
The Russian leader said that he keeps all the gifts Seagal and expects to maintain personal relations with the new Russian citizen. "Never doubt it," replied the actor.
Seagal in Russian thanked Putin for паспортhttps://t.co/Td8luEn7Fr pic.twitter.com/lwUFfyWDC8
— Life | news (@lifenews_ru) 25 Nov 2016
Comments
comments