Kiev has warned airlines about the inevitability of firing in the South of Ukraine
Command of Air forces of Armed forces of Ukraine warned in advance the airlines and providers of aviation services from different countries about the dangers of the use of airspace in southern Ukraine on 1 and 2 December, as during this period there will be exercises, including aerial shooting.
For this purpose he prepared and published the aviation notice (NOTAMS). This was reported on page command in Facebook.
Video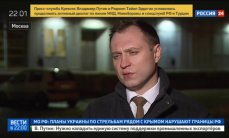 Rosaviation will not stop flying over Crimea because of the Ukrainian missiles
In the message it is emphasized that the shooting will take place "exclusively in the airspace of Ukraine", the open sea, and "will be carried out strictly with international law".
On the eve of 25 November, the Secretary of national security and defense Council (NSDC) Oleksandr Turchynov has said that Ukraine has no plans to conduct missile tests in the Kerch Strait. "In accordance with all international agreements, sovereign airspace of the Russian Federation in the Black sea ends up in the middle of the Kerch Strait," — said the NSDC Secretary. "In this area Ukraine has no plans to conduct missile tests. The rest of the territory West of the Kerch Strait is the sovereign airspace of Ukraine", — he said.
Earlier in the day, it was reported that Ukraine has decided to conduct missile firing over the high seas and in the airspace of Russia in the Crimea. The Rosaviation has demanded from Kiev immediate cancellation of the issued notifications to activate a threat zones in the airspace. The Russian defense Ministry has protested the Ukrainian side.
Adviser to the head of Federal air transport Agency Sergei Izvolsky said that to close the sky over the Crimea for flight due to the intentions of Kiev to conduct a missile firing is planned.
Comments
comments