Ukrainian sailors thanked the crew of the ship of the Navy of the Russian Federation for the help
Moscow. 25 Nov. INTERFAX.RU — the crew of the large anti-submarine ship (BOD) of the Northern fleet "Vice-Admiral Kulakov" on Friday handed over to the Ukrainian fishing vessel ships of the rescue service of Greece.
"The Ukrainian crew of the ship thanked the Russian sailors for their assistance" — it is told in the message of the defense Ministry received by "Interfax".
BOD of the Northern fleet "Vice-Admiral Kulakov" went to the area of the tasks of combat service in the part of the permanent group of ships of the naval fleet in the Mediterranean sea.
See also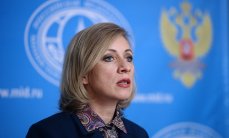 Zakharov commented on the rescue of the Russian ship of the Ukrainian vessel
24 Nov at 8:20 Moscow time BOD "Vice-Admiral Kulakov" performing tasks as part of a permanent grouping of the Russian Navy in the Mediterranean sea received a distress signal from a Ukrainian fishing vessel "097" (the port of registry Mariupol), on Board of which were seven persons, all citizens of Ukraine.
Russian warship moved to assist the crew of the distressed ship, which two days was in the drift.
For towing the ship to the anchorage at the Greek island of Gavdos Russian military ship covered a distance of over 140 miles.
EN route to the Ukrainian sailors were provided with all necessary, including medical, assistance.
Comments
comments