The approval rating of Putin peaked in 2012
Moscow. 23 Nov. INTERFAX.RU — the Share of Russians approve of the activities of Vladimir Putin as President of Russia, peaked in 2012, then the figure was at 63%, now 86%, reported "Interfax" in the "Levada-Center". Dissatisfied with the work of Putin's 14% of Russians.
According to sociologists, the increased approval ratings of Dmitry Medvedev as Prime Minister: up to 52% now versus 48% in October. Not approve of his job as Prime Minister, 47% of citizens (against 51% a month ago).
Commending the work of the Russian government, 50% of Russians said they were satisfied with the Cabinet of Ministers, and 49% dissatisfied.
The activities of the State Duma approve 44%, disapprove — 54%.
The activities of their governors (in Moscow mayor — if) satisfied 56% of respondents, and 43% — no.
Respondents were also asked to name 5-6 politicians, public figures, whom they trust the most.
Top 3 remained the same as a month ago, but the level of trust in these politicians increased slightly: in the first place V. Putin (59% and now 52% in October), followed by the head of the defense Ministry Sergei Shoigu (27% and 24%), the third — Minister of foreign Affairs of Russia Sergey Lavrov (25% and 24%).
See also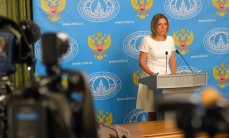 Zakharova entered the top-100 most influential women according to the BBC
Followed by Medvedev and the leader of LDPR Vladimir Zhirinovsky (16%), Communist party leader Gennady Zyuganov (9%), Moscow mayor Sergei Sobyanin, the head of Chechnya, Ramzan Kadyrov, Patriarch Kirill (5%), the leader of "Fair Russia" Sergei Mironov, Federation Council speaker Valentina Matviyenko (4%).
Do not trust any Russian politicians 14%, and 11% said they are not interested in politics.
According to 56% of Russians, the situation in the country in General going in the right direction (this is the highest figure since the beginning of the year, in January, he was at 45%).
The opposite opinion is shared by 26% of respondents were undecided 18%.
The survey was conducted 18-21 November among 1,600 people aged 18 years and older in 137 localities of the 48 regions of the country. The statistical error does not exceed 3.4%.
Comments
comments