Putin announced a solution to the dispute with Japan over the Kuril Islands
The absence of a peace Treaty between Russia and Japan is a relic of the past that hinders the development of relations between the two countries, reported the Agency "Interfax" on Monday, November 21, citing a statement by President of Russia Vladimir Putin.
"I'd hate to get ahead of myself on the question about the basic problem that we're engaged in — the preparation and signing of the peace Treaty," — said the Russian leader.
He noted that both Russia and Japan, its absence prevents to move forward and develop.
Putin acknowledged that "the path to a peace agreement difficult". Thus, according to the Russian President, there are different solutions to controversial issues.
The Russian leader has noticed that the basis for the instrument would be the implementation of major joint projects and solution of economic and humanitarian issues in the Kuril Islands.
Speaking about the Kuril Islands, the President stressed that they are the result of the Second world war and Moscow considers them to be sovereign Russian territory, which is enshrined in international instruments.
"Based on what could be agreed? On the basis of building trust in each other. One of the ways of enhancing such confidence is the expansion of our cooperation", — Putin said.
He said that this is why Japanese Prime Minister Shinzo Abe presented his program to expand business and economic ties between the two countries. "This decision is economic and humanitarian issues, although it is too early," — said the Russian leader.
See also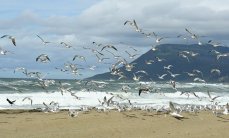 In Tokyo said the terms of the peace Treaty with Russia
"Let me remind you that in 1956, was the signing of the agreement between the USSR and Japan, where it was assumed that Japan will be returned to the two Islands. It didn't say on what basis, under whose sovereignty will remain the two Islands, the terms on which they will be transferred", — said the President.
He added that he is aware of the Japanese position, insisting on all four Islands. "It's all a subject of our negotiations", — concluded the President of Russia.
In early September, Putin found it possible to achieve acceptable to Russia and Japan compromise to the dispute over the Kuril Islands.
In an interview with Bloomberg he reminded that the previous two years, the contacts of the parties on this issue were frozen at the initiative of Tokyo. Now, however, the Japanese authorities asked Moscow to return to the discussion of this topic, and the Kremlin went forward, said the Russian President.
Comments
comments