The Pentagon plans to abandon the Russian Mi-17 helicopters for Afghanistan
WASHINGTON, Nov 19 — RIA Novosti, Alexei Bogdanovsky. Initiative group of members of Congress announced Friday that the Pentagon has officially refused to continue purchases of Russian Mi-17 helicopters in the future will buy only American helicopters UH-60A Black Hawk of the American firm Sikorsky.
At the request of members of Congress, the Pentagon announced that instead of Russian Mi-17 helicopters for the Afghan forces is planned to retire the us army to upgrade 53 helicopter UH-60. American troops received new UH-60Ms, said members of Congress.
See also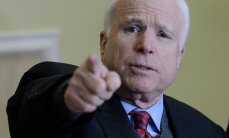 McCain: Afghanistan seeks help from Russia due to a failure of US leadership
The Pentagon used to buy helicopters for the Afghan army, Russia, 2013, new purchases of this sort. However, the U.S. military continues to assist the Afghan side in the acquisition of spare parts and maintenance of machines, which are the basis of Afghan aviation.
The US defense Department has repeatedly said that Mi-17 is very well suited for the Afghan air force, so abandon them before. In the budget bill by end of 2015 further purchases of helicopters were preemptively removed from the inhibitory mechanism of sanctions against Russia.
"After the efforts of Senator Richard Blumenthal, Senator Chris Murphy and house of representatives of the Roses, DeLauro the defense Department intends to end dependence on Russian-made helicopters used by the Afghan national defense and security. The defense Ministry plans to switch to made in Connecticut Black Hawk helicopters," — said in a statement members of Congress from Connecticut.
Senator Blumenthal said that it is a "long overdue step". He called the purchase of Russian helicopters "nonsense, which will now be stopped". Murphy and DeLauro also in their statements referred to the differences with Russia on Syria and Ukraine, and welcomed the intention of the Pentagon.
A review of the Pentagon RIA Novosti has not yet.
Comments
comments