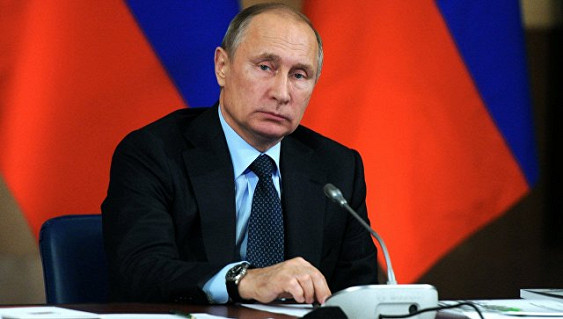 Photo:
RIA Novosti
Russian President Vladimir Putin on Thursday will hold the third this week a meeting with the military, but which will be discussed in the aviation readiness and state reserve.
Also in Sochi will be held operational meeting with permanent members of the security Council, said on Wednesday the press-Secretary of the President Dmitry Peskov.
"Tomorrow will be another meeting on aviation readiness, a discussion of how the case reserve, state reserve, that is, the detailed work will continue tomorrow," — said Peskov.
"Also, here in the South held an operative meeting with permanent members of the security Council", he added.
The previous meeting with the leadership of the Ministry of defense was devoted to military construction, and at the first meeting of Putin and military leaders discussed the Russian operation in Syria and the implementation of state defense orders.
Air and space forces of the Russian Federation in 2016 took part in several large-scale exercises and unannounced inspections of the armed forces. In particular, the massive use of aviation was worked out in the past strategic exercises "Caucasus-2016" in which to accomplish the task were simultaneously involved about 120 aircraft.
In addition, the crews of videoconferencing in 2016 took part in the exercises of the CSTO "Frontier-2016" and the teachings of the SCO "Peace mission 2016" in Kyrgyzstan, flight-tactical exercises "bars-2016" in Serbia, the Russian-Indian exercise "Indra-2016", a military transport aircraft first made landing equipment and troops in Africa in the framework of the Russian-Egyptian military exercises "Defenders of friendship in 2016."
Another test for the Russian space forces was the international stage of "Aviadarts 2016", held in Ryazan within the international Army games. At competitions Russian pilots took first place in the team standings, ahead of counterparts from Belarus, Kazakhstan and China.
The government reserve is a special Federal (national) reserve of material values, and is the Treasury of the Russian Federation.
It is designed to ensure the mobilization needs of the country; ensure urgent works at liquidation of consequences of emergency situations; the provision of state support to various industries, organizations, subjects of the Russian Federation to stabilize the economy with temporary violations of supply of key raw-material and fuel-energy resources, food in case of imbalances between supply and demand on the domestic market; humanitarian assistance; providing regulatory impact on the market.
The Federal system of the state material reserve contains an extensive farm.
"The network of stores covers the whole territory of the country, including returning to Russia the Crimea. Reserves on the Peninsula was created in the shortest possible time", — told in an interview to "Rossiyskaya Gazeta" head rosrezerva Dmitry Gogin.
In the state there are hundreds of names of strategically important food and industrial goods, fuel, machinery, means of livelihood — all that you may need in crisis situations.
Comments
comments