The Russians instead of purchases rather save my money for a "rainy day"
Moscow. 14 Dec. INTERFAX.RU — Emerged in early autumn, hopes of increased demand from Russian buyers while not making excuses, show the results of the November opinion poll on consumer confidence of Russians.
Unfavorable for large purchases present time considers 61% of Russians, reasonable — 23%. About the need to reduce everyday costs to say 65% of Russians. On the contrary, faster to spend the salary or pension is considered advisable 24%.
See also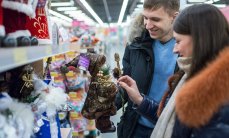 the Russians refused to cut the Christmas budget for the first time in a few years
The study showed that the consumer confidence index in the last six months fluctuates within a narrow range of 33-36 points. November's value of the indicator (p. 34) repeats the result of a year ago, and close to the level of December 2014. (36.), possible range 10 to 90 p.
The index credit is stagnating: from August to November, it remains at around 22 p. (this is the maximum this year), in the range of 10 to 90 p. From the November value 2015 (21 p.) it is virtually identical. Only every tenth Respondent (10%) said that now is the right time for large loans, while 80% believe it is not the best solution.
The attitude of Russians to banks in recent months also did not change significantly: 38% believe that if the money stays in the Bank, then they should be there to pick up (among people with high, according to their estimates, incomes think so 48% among respondents with poor financial situation — 26%), and almost as many (37%) — funds are now better to put on the account.
Comments
comments