The media learned about the identity of three killed in a shootout in Grozny
During a shootout between soldiers and bandits in Grozny killed four people, the identity of three of them installed.
It is reported by the "Caucasian knot" with reference to a source in law enforcement bodies of the region.
According to the interlocutor of the edition, as a result of wounds killed Islam Altemirov, Sayd-Ibragim Ismailov Magomed Ilyasov. The fourth person of the offender is established. All the dead were local residents.
Currently, the police carries out operational-preventive activities in order to establish details of the incident. Local residents say that law enforcement officers carry out inspections, during which detain young people.
Yards cordoned off, police went from door to door and conduct a check. It turns out that the neighboring house is unknown at the police seized weapons and left. Where now the employee, is also unknown. They say that he was taken by colleagues.a resident of Grozny
According to another companion publication, the security forces detained relatives and friends of those killed in the crossfire of criminals.
See also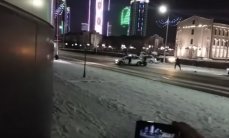 On YouTube there was video of firefight of the bandits with the police in Grozny
On the night of 18 December, the head of the Chechen Republic Ramzan Kadyrov reported on the elimination in Grozny, a group of armed criminals. In the Oktyabrsky district of the Chechen capital, gunmen attacked police and seized his car, then entered the house of another law enforcement officer.
During the entered plan "Interception" police attempted to detain the car with the bandits, but the ones knocking at one of the crossroads of traffic police, tried to escape.
The car the suspects opened fire, four people were killed and two were wounded. The source of the "Caucasian knot" earlier reported six dead in the shootout.
Comments
comments