Robot "Fedor" to "throw" the weight to become an astronaut
MOSCOW, December 13. /TASS/. The developers of the Russian robot "Fedora" will reduce its size to fit in the seat of spacecraft "Federation". This was told in an interview with TASS General designer of NGOs "Android technology" Alexei Bogdanov.
Currently, the growth of "Fedora" is 184 cm and a weight depending on the attached plug-in modules and additional equipment ranges from 106 to 160 kg.
Photos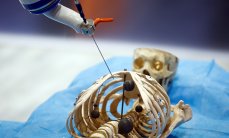 rise of machinw Beijing hosted the world conference and exhibition on robotics (World Robotics Conference 2016 – WRC)
"We have some way to rework the design (robot — approx. TASS). Marginal growth for the astronaut determined at 190 cm, the weight limit is 105 kg, width at shoulders — 48 cm We weight not pass just one kilogram, "Fedor" is now quite broad-shouldered. In space flight will go even more humanoid robot", — he said.
The developers plan to reduce its weight by using composite materials. Development NGO "Android technology" is going in conjunction with the Foundation for advanced studies.
Further modernization
In addition, the designers plan to upgrade the battery, because during space flight "Fedor" needs to be adapted to long-term Autonomous operation. Also among the main tasks of modernization "Fedora" for space flight — adapting to work in conditions of space radiation, and compliance with electromagnetic compatibility the used it components with vehicle systems "Federation", said Bogdanov.
News
Video of the day: the robot Fedor
"In particular, we will need to adjust the drive system, because in the vehicle and at the station is used the voltage is less than we use now, we will have 48 Volts go to 23-29 Volts," said he.
At the same time, according to Bogdanov, a radical alteration of the structure of the robot is not required.
Robot "Fedor" was created by the company "Android technology" and Fund advanced research on the technical task of EMERCOM of Russia. Initially, the robot was known under the code name "Avatar", but recently it got its own name — FEDOR (Final Object Research Experimental Demonstration, a Final demonstration of the experimental objective). As previously reported, in 2021 he should be the only passenger ship of the Federation during its first flight.
Comments
comments