Zakharova denied reports about offending operator Reuters Lavrov
The official representative of Russian foreign Ministry Maria Zakharova denied reports about offending operator Reuters foreign Minister Sergei Lavrov. About Zakharova said RBC.
According to her, she saw this video, but it Lavrov, "nobody called".
"[Lavrov] asked the operator of the camera for what he wants, the operator said nothing and continued to shoot the Minister passed her by and said nothing," — said Zakharov.
Earlier video with Lavrov issued the first Ukrainian TV channel "Gromadska Telebachennya" on YouTube.
The video shows how Lavrov walking down the corridor for a meeting with German foreign Minister Frank-Walter Steinmeier. Then he stops and asks "Still not here yet is he?" Him the girl responds: "No more." After that, Lavrov looks into the camera and asks: "What do you want?" ("What do you want?").
Then he turns to the operator side and goes into the room. Behind the scenes at this point, the word sounds like "morons". Who says it, from the video it is unclear.
See also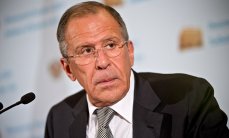 Ministry of foreign Affairs commented on came from the mouth of Lavrov, the word "morons"
August 11 at a press conference after talks with foreign Minister of Saudi Arabia, Lavrov said into the microphone the word "morons". It is unknown who belonged to that statement. A minute later, Lavrov made the remark in the audience. "We will not interfere?" he asked.
Later official representative of foreign Ministry Maria Zakharova said that no harsh words from head of Department, at a press conference did not hear, and refused to comment on "noises, coughs or some other interjections".
Lavrov himself on radio kp.ru comment on your statement. "I didn't lose my temper… Sorry, well not one I find myself in the situation when the microphone is not muted" — said Lavrov.
Comments
comments