The Parliament of South Korea voted to impeach President Park Geun-Hye
Moscow. 9 Dec. INTERFAX.RU — South Korea's Parliament called for the launch of the impeachment of President Park Geun-Hye.
11фотографий11фотографий11фотографий
"For" vote of 234 out of 300 MPs.
Now the fate of the Park Geun-Hye will address the constitutional court of South Korea, the case will take at least 180 days. During this procedure, the credentials of Park Geun-Hye will go to the Prime Minister Hwang Kyo Anu.
See also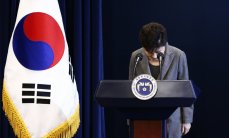 the South Korean President expressed his willingness to resign
Earlier, the President, speaking to the nation, announced that its fate after the recent scandal needs to be solved in this Parliament. According to her, she will voluntarily resign if the deputies will be able to "minimize problems" with the transfer of power.
In order to shift the head of the country, for it was to vote not less than 200 out of 300 MPs. Opposition and independent MPs had a total of 172 votes. Therefore, impeachment was necessary to support at least 28 people from ruling party "Senuri". Informed her representative Hwang Yang Cheol said that this target has been reached.
Political scandal around the President of South Korea has inflamed after it became known that her close Choi sung-SIL, without occupying any positions in the administration, the rules of a number of texts of presidential speeches before they were publicly read. In addition, Choi sung-SIL accused of transferring donations coerced from a number of large companies, in NGOs, created for the needs close to the President.
South Korean prosecutors have indicted Choi sung SIL and two former aides to Park Geun-Hye, who was supposed to be her accomplices. The opposition claims that Park Geun-Hye has violated the Constitution of the country the fact that allowed Choi sung-SIL to interfere in the Affairs of public administration.
Local media reminded that in 2004 the Parliament voted to impeach then-President Roh Moo-Hyun. However, the constitutional court overturned the decision.
Comments
comments