In KHMAO declared a day of mourning after the death of children in a car accident
Moscow. 4 Dec. INTERFAX.RU — the Governor of KHMAO Natalia Komarova at the meeting of the operational headquarters on Sunday evening announced that on 5 December in the region will be declared a day of mourning. About this informed the Agency "Interfax" the Director of the Department of public and external relations Elena Shumakova.
Accident on 926 kilometer of the highway Khanty-Mansiysk – Tyumen. Official информация8 (3467) 397-777Телефон "hot line" in the Main Department of EMERCOM of Russia for KHMAO – Ugrupowanie
The official website of the Main Department of EMERCOM of Russia in the Khanty-Mansi Autonomous district – Yugra
According to her, Sunday will be the signed document on assistance to victims and families of victims. Details of the document are not reported, as they discussed at the meeting of the operational headquarters.
Video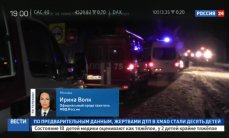 of road accident with children in Yugra: 12 dead and 23 wounded
An accident involving a bus and a truck happened today on the 926 km route Khanty-Mansiysk — Tyumen. On the bus with competitions in sports acrobatics from Khanty-Mansiysk Nefteyugansk back children team.
According to the interior Ministry, the accident injured 25 people, including 22 children. All of them are delivered to the regional clinical hospital in Khanty-Mansiysk, the condition of many victims is estimated as heavy. Victims of accident of a steel of 12 persons, most of them children.
"On a slippery road, the driver lost control, the truck hit the median part of the bus and broke it into two parts," — said the source Agency in the emergency services.
In Raman said that to date, investigators are inclined to believe that the bus driver lost control, and that was the cause of the accident.
Upon road accident criminal case "is brought on signs of the crimes provided by part 5 of article 264 of the criminal code and part 3 of article 238 of the criminal code ("Violation of traffic rules, entailed on imprudence death of two or more persons" and "Rendering services not meeting safety requirements").
Comments
comments