Media found the oldest stewardess in the world
Bette Nash (Bette Nash) for nearly 60 years working as a flight attendant. The life story of 80-year-old employee of American Airlines drew the attention of the media, particularly CNN. The TV channel said that a woman can be called the oldest stewardess in the world.
According to Nash, to become a flight attendant she had dreamed when I was a teenager. She got a job as a stewardess in the now defunct American airline Eastern Airlines 4 Nov 1957.
See also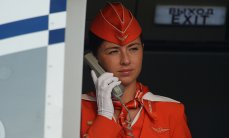 Flight attendants told about the strange incidents in their practice
As she says, in those days air travel was a luxury, passengers were served a full lunch. In this regard, the flight attendants had more difficult because they had to wear around the cabin heavy trays, says Nash.
The hostess notes that this aspect of the work has been simplified, like so much else in civil aviation.
Nash said when she was just starting to work, flight information wrote on chalkboards, and all instructions were printed.
The woman also admitted that she still loves her job and passengers.
Comments
comments