The Prosecutor's office reported about the disappearance of the witnesses in the case about the murder of Nemtsov
The Prosecutor said that the prosecution could not find two witnesses in the murder of opposition politician Boris Nemtsov.
6фотографий6фотографий
As reported by TASS, the Prosecutor Maria Semenenko the Moscow district military court announced that the prosecution could not find two witnesses who were on the Big Moskvoretsky bridge at the time of the murder of Boris Nemtsov.
We are talking about the snowplow driver Sergey Budnikov and passer-by who saw leaving the crime scene car.
"The prosecution said involved a search for a missing witness Serhiy Budnikova. If the defense finds it, we would greatly appreciate and interrogate him," — said Semenenko.
Budnikov and a passerby was questioned during the preliminary investigation, and their testimony was included in the criminal case. However, the defense demanded that the witnesses were in court.
See also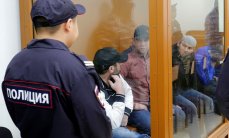 the court in the case of Nemtsov decided to call in for questioning Eremeeva fan
Sergey Budnikov was working on the bridge at the time of the murder. It ran up to him Nemtsov's companion Anna Duritskaya, a request to call the police. The second witness — Eugene Young — saw the car with the alleged criminals drove away from the scene of the murder on the Big Zamoskvoretsky bridge.
Boris Nemtsov was killed on the night of the 28th February 2015 on Big Moskvoretsky bridge in Moscow, when he was returning home along with his companion from the restaurant. The killer made the policy a few shots, and then disappeared. In the case of his murder currently being a former fighter of the battalion "North" Zaur Dadaev (investigators believe the direct perpetrator of the crime), Khamzat, Temirlan Eskerkhanov and brothers Anzor and Shadid Gubareva.
The consequence considers that the customer and the organizer of the murder was a former officer of the "North" Ruslan muhudinov, which is in the international wanted list.
Earlier it became known that the Moscow district military court has agreed to cause on interrogation of Deputy commander of the battalion "North" Ruslan Eremeev. The lawyer pointed out that he "was aware of the criminal activities of the accused." The suspect muhudinov was the driver Eremeeva.
Comments
comments