Lavrov said about the opinion of Washington's proposals for Aleppo
The US said that withdrawing the proposal on 2 December for the withdrawal of militants from Eastern Aleppo. On Tuesday, December 6, Minister of foreign Affairs of Russia Sergey Lavrov, reports TASS.
"Yesterday we have received from them [US] a message that they will not be able to meet tomorrow for consultation in Aleppo, because they changed their mind. Now they have a new document (…) Judging by our first impressions, everything is back to normal and looks like an attempt to buy time for the fighters caught his breath, breath and replenish their reserves," — said the Minister.
Photo essay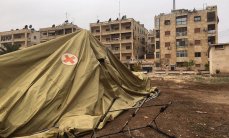 In Syria shelled the Russian mobile hospitalire the shelling of the Russian military mobile hospital deployed in Aleppo, killing two doctors.
Lavrov added that a serious discussion with Americans on Syria does not work.
3 Dec Sergei Lavrov said that during a meeting in Rome, U.S. Secretary of state John Kerry gave him a new proposal for Washington to resolve the situation in Aleppo, which, according to the foreign Minister, are in line with Russia's approaches on this problem.
On 9 September in Switzerland, the foreign Ministers of the USA and Russia reached agreement on a multi-stage plan for Syria, according to which, in particular, from 12 September to the Arab Republic of the cease-fire.
The truce lasted about a week, during this time repeatedly documented violations. 19 Sep at first the rebels and then the Syrian army announced the resumption of hostilities.
Comments
comments