Media: five people detained in Turkey for the murder of the Russian Ambassador
ANKARA, 20 December. /Offset. TASS Kirill Zharov/. The number of detainees in the case about the murder of the Russian Ambassador in Ankara, Andrey Karlov has risen to five, according to TV channel NTV.
13фотографий13фотографий13фотографий
Previously reported only about the detention of mothers and sisters of the murderer of a Russian diplomat, reminiscent of the TV channel.
Video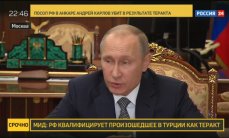 Putin: the murder of the Ambassador was a provocation aimed at disrupting relations with Turkey
According to him, the police arrested the father of the assailant and two other people. They deliver the Juice (province of aydın) to Ankara for questioning, relatives of the murderer seized electronic devices.
As previously stated the interior Minister of Turkey, Suleyman Soylu, an attempt on Charles made a police — officer mevlüt MERT Altıntaş born in 1994. The assailant was eliminated.
The attack on Charles was committed to the opening of the photo exhibition in Ankara on Monday evening. The shooting injured three citizens of Turkey.
Comments
comments