Russia refuses to support the proposal of France to send observers to Syria
Russia will not support the French draft resolution on location in Aleppo, the UN observer. On Sunday, December 18, said the permanent representative of Russia to the UN Vitaly Churkin.
9фотографий9фотографий9фотографий
"We believe that they offer — an impossible and dangerous," said the diplomat, noting that Moscow could not support the document. "We can't let him go," he added.
The UN security Council on 18 December holds emergency consultations on the French draft resolution on the deployment of UN observers in Eastern Aleppo to monitor the evacuation. After the discussions, the document will be put to the vote.
See also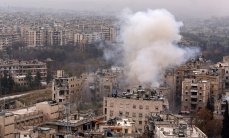 Called the exit condition from East Aleppo, the remaining militants
17 Dec Churkin, commenting on the French project, said that sending observers in Aleppo will take a few weeks. According to him, the discussions in the security Council, he again expressed regret that the United States three years ago, has insisted that UN observers were withdrawn from Syria. He recalled that the deployment of 300 UN observers took several weeks.
On Friday, the permanent representative of France to the United Nations said that his delegation intended to submit to the security Council a draft resolution on the need for evacuation under the supervision of international observers, humanitarian assistance to the needy and security of hospitals and medical staff. The initiative to send to Aleppo international observers supported the United States.
To the UN monitoring mission, which was sent to Syria in 2012 and displayed at the request of Washington, were observers of the League of Arab States.
Comments
comments