Putin said the main result of the work of the government in 2016
The main achievement of the government in 2016 is to find "an optimal balance between solving problems in the sphere of economy and social development".
This was at a traditional new year meeting with Cabinet Ministers, said the President of Russia Vladimir Putin, reports "Interfax".
Read also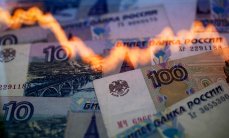 Putin has predicted record low inflation for 2016
"It was frustrating, but overall this balance has been found," he said. In his opinion, the government worked with "optimal effect".
Putin acknowledged that Russia "continues a slight decline," but noted that "compared to the downturn of last year is night and day".
According to him, there is reason to believe that next year Russia will enter the path of economic growth, said the head of state. "It is important that this growth has been sustained and has increased from year to year," he added.
At the end of last year Vladimir Putin was satisfied with the work of the government, but urged it to work "agile". Overall, in his opinion, the Cabinet of Ministers acted "effectively chose the right approaches to solving the problems facing the country."
Comments
comments