Protesters in Krakow tried to prevent Kaczynski to get to the Wawel castle
The police were able to push back the protesters and helped the convoy of cars to drive.
WARSAW, December 18. /Offset. TASS Irina Polina/. A group of participants of anti-government demonstrations in Krakow tried to block the passage to the Royal Wawel castle, where on Sunday evening, representatives of the ruling Republic party "Law and justice" (ZIS).
Local TV channel TVN24 showed a live attempt of the Deputy Ryszard Terletskiy to pass on the Wawel castle.
The protesters stopped his car, shouting "Traitor". The police managed to push the parties to this action.
After that some of the protesters lay on the ground and shouted "Solidarity! Democracy!", "Freedom! Equality! Democracy!". Their main goal was not to miss the Wawel ZIS leader Jaroslaw Kaczynski. Despite all efforts, they failed — the police helped the convoy of cars to drive.
See also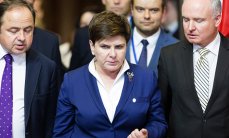 Prime Minister of Poland urged the protesting opposition to dialogue
A similar situation has developed in the night from Friday to Saturday in Warsaw. Then opposition supporters in a few hours blocked the departure of the deputies of the Saeima, protesting against the actions of the ruling party. This night marked the beginning of the current parliamentary crisis in the country.
Parliamentary crisis
Parliamentary crisis in Poland began the evening of 16 December. During this year's last sitting of the Parliament, which accepted the country's budget by 2017, the opposition blocked the work of the deputies surrounded the podium, to protest against the violation of media freedom. They spoke against plans to restrict access to Parliament for correspondents covering the work of the Sejm and the Senate.
The ruling party "Law and justice" moved the meeting to another room that was not equipped with electronic system of counting votes, and held a series of votes. The opposition plans to submit a statement to the Prosecutor, because he believes that the ruling party has adopted several laws, including the budget, without the necessary quorum (more than 230 deputies out of 460). In the "Law and justice" claim otherwise.
Some MPs from the opposition party "Civic platform" are still in the plenary sessions of the Sejm, Presidium of the interlocking and requiring that on Tuesday, December 20, Parliament met again and held a legitimate vote.
On the streets of Warsaw and other Polish cities, meanwhile, left thousands of people, shouting: "Freedom! Equality! Democracy", "Constitution", "Freedom of the media!".
In the night from Friday to Saturday, protesters for several hours blocked the exit of deputies from the Parliament. Picket at the diet building is still ongoing. As expected, the mass demonstrations in Poland will last until Christmas.
Comments
comments