Source: victims of road accident near Pskov were five citizens of Vietnam
MOSCOW, 17 Dec — RIA Novosti. Vietnamese citizens were killed and injured in the collision of a minibus with a truck in the Pskov region, told RIA Novosti a source in the emergency services of the region.
"According to preliminary data, at collision of a minivan with a truck two kilometres South of the village of Mavrino killed five citizens of Vietnam and six were injured," — said the Agency interlocutor.
See also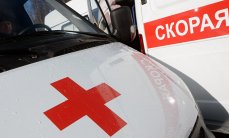 near Pskov in the accident killed five people
According to him, the condition of the victims is estimated as heavy and moderate severity.
They Opochetskaya hospitalized in the Central regional hospital.
Previously the regional Directorate of the interior Ministry reported five dead and eight wounded in a traffic accident in Pskov region on 433 kilometer of the highway St. Petersburg — Nevel with the participation of Mazda, and Renault truck.
Comments
comments