Kaczynski left the building of the Parliament, accompanied by a police escort
Departure from the building of the Parliament blocked the opposition, protesting against plans to restrict journalists ' access to Parliament.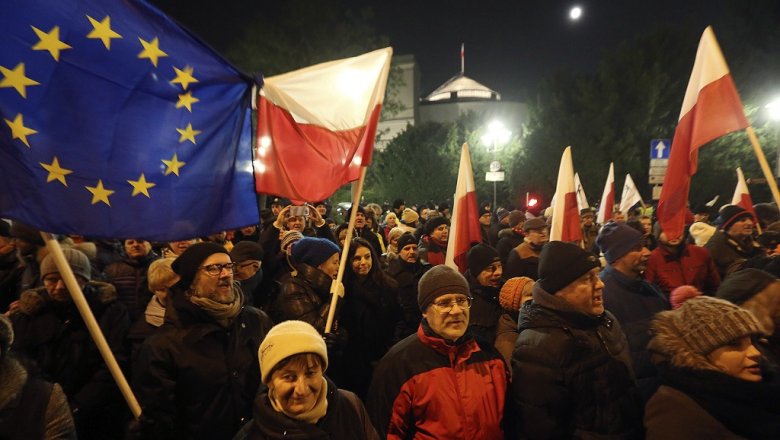 WARSAW, December 17. /Offset. TASS Irina Polina/. Anti-government rally, which on Saturday night blocked the exit of the Sejm (lower chamber of Parliament) deputies of the ruling Polish party "Law and justice" (ZIS), as well as other parliamentarians and members of the government, gradually coming to an end. About three o'clock in the morning (05:00 GMT) the police provided a "live corridor" to exit from the building the column of cars in which there were, in particular, the leader of ZIS Jaroslaw Kaczynski and Prime Minister of the Republic of Beata Szydlo.
A spokesman for the Metropolitan police Mariusz Mrozek denied a number of media disseminated information that at the time of this advance was sprayed with tear gas. "The police only used physical force" against the people who "threw themselves under the wheels, threatening its own security," he said.
According to Mrozek, currently on the perimeter of the whole complex of Parliament buildings security and provide several hundred police officers. The demonstration at midnight was declared illegal.
Protesters with the flags of Poland and the EU in the hands of have argued that will not let the Parliament after this year's last sitting of the Parliament to celebrate Christmas.
Inside Parliament, meanwhile, remain members of the opposition who decided not to leave the building of the Parliament and continue to block the Presidium in the plenary conference room.
The reason for the protest
The protest began in the lower house of Parliament on Friday with a blockade of the work of the Seimas opposition, refused to participate in the work because of plans to restrict journalists ' access to Parliament. After more than five hours of ZIS managed to collect necessary for decision making quorum and to adopt the budget in 2017, but also caused a lot of controversy and protests, the law on reduction of pensions to former employees of power structures of the Polish people's Republic.
See also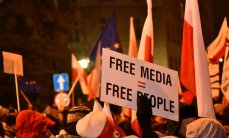 Warsaw Police threatened the protesters with use of force
The opposition believes of the election illegitimate, as they were not held in the main plenary hall, where opposition deputies blocked the Presidium, and another room which is not equipped by electronic system of counting votes. The opposition also claimed that the Parliament resumed its work without the necessary quorum.
Started in the lower house of the Polish Parliament to protest were moved to the square in front of the Sejm.
It was joined by the activists of the Committee for the defense of democracy, which for several months to defend the Republic in the civil rights and freedoms.
At the moment the number of protesters reached several thousand.
Comments
comments