The Japanese will open access to previously closed area of the South Kuril Islands
According to Vladimir Putin, cooperation in the Kuril Islands will lead to the establishment of the atmosphere for further dialogue on the peace Treaty.
Moscow. 16 Dec. INTERFAX.RU — Russian President Vladimir Putin said that he agreed with Japanese Prime Minister Shinzo Abe to do everything to ensure the access of the former Japanese inhabitants of Southern Kuriles on the island.
"Mr. Prime Minister yesterday in an interview with face to face have devoted a lot of attention, handed me a letter from citizens of Japan who aspire to such informal interaction with Russian citizens on these Islands", he said at a press conference after talks with Abe.
Photos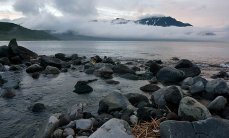 Controversial ridge
"We have agreed that we will do everything possible to give them free access even in those areas that until now were closed to them", — continued the head of the Russian state.
The President said that he and Abe instructed the foreign Ministry of the Russian Federation and Japan to discuss the possibility of simplification of the procedure of the Japanese visit the graves of their relatives in the Kuril Islands.
Putin also noted that it is proposed to introduce a regime of free cross-border movement of residents of the Sakhalin region and Hokkaido.
A peace Treaty
The Russian President called the absence of a peace Treaty with Japan an anachronism. According to him, he expects that cooperation in the Kuril Islands will facilitate the atmosphere for further dialogue on the peace Treaty.
Read also
Putin called for an end to "historic ping-pong" about the fate of the Kuril Islands
"As you know, this question (a peace Treaty) has been discussed for over 70 years. It would be naive to believe that we can overnight it to settle. But the search for a solution that would meet the strategic interests of both Russia and Japan, and would be accepted by the peoples of these countries, of course, necessary," Putin said after talks with Abe.
"To address this question requires painstaking work on building mutual trust, comprehensive development of the whole complex of Russian-Japanese relations", — said the head of state.
The Russian President added that in this context, they supported Abe's initiative to establish a joint economic activities on Southern Kuriles.
Comments
comments