In Aleppo militants at the exit from the city tried to take prisoners
Evacuation of the terrorists and their families from Eastern Aleppo suspended after they violated the agreement and fired on one of the blocks.
MOSCOW, 16 Dec — RIA Novosti. The evacuation of insurgents and their families from Eastern Aleppo suspended, according to Syrian state channel Al-Ikhbariya.
"There are reports that the militants had violated the agreement and tried to take hostages", — the correspondent of the TV channel.
According to Al-Ikhbariya, terrorist groups shelled the area of the quarter Ramose.
See also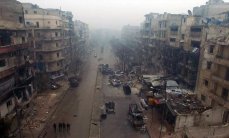 What was and became Aleppo
Reuters, citing witnesses reported several explosions that were heard in the place where went buses with evacuees.
The export of Eastern Aleppo of the terrorists, their families and the wounded lasted continuously for two days. The city was supposed to leave last column of buses. Earlier, the Russian Centre of reconciliation of the warring parties in Syria reported that during the first day of operations of Eastern Aleppo derived nine convoys, taken almost 6,5 thousand people, including 3 thousand fighters.
Comments
comments