Evacuation from Eastern Aleppo suspended
Evacuation from Eastern Aleppo is suspended, the correspondent of Reuters from the scene.
Syrian state television and the army claim that the rebels attempted to take prisoners and thereby violated the agreement.
The rebels in response accused of supporting the Syrian army Shiite militia in the shelling of the evacuation buses.
"I believe that the order [cancel the operation] came from the Russians, who follow the situation in the region", — said the representative of the world health organization, Elizabeth Hoff. Earlier in the Russian defense Ministry said that the Russian military was escorted evacuation convoys.
See also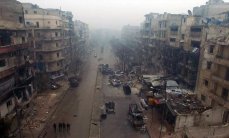 What was and became Aleppo
Hoff added that hospitals in the Western area of the city, where they brought the wounded from the Eastern part, "crammed to capacity".
In the night of Friday in Aleppo continued evacuation of rebels and civilians from the Eastern parts of the city. The ceasefire for the last night was not disrupted, said the representatives of the International Committee of the red cross and red Crescent societies. Tens of thousands of people waiting to leave the city.
The correspondent of Reuters informs that he had heard four explosions near the place where went buses with refugees.
According to the Russian Ministry of defense, during the first day of the evacuation "of Eastern Aleppo was withdrawn nine convoys, taken 6462 person, including three thousand fighters."
Eastern Aleppo under rebel control for more than four years, the last two years under siege. The Syrian government announced the capture of the city under the full control on Tuesday. However, after allegations of cease-fire, fighting resumed.
Comments
comments