Peskov confirmed the presence at the reception in the Kremlin fought in the Donbass Utkin
Moscow. 15 Dec. INTERFAX.RU Press Secretary of the President Dmitry Peskov confirmed that Dmitry Utkin, a group which, according to media reports, could take part in the fighting on the territory of Donbass, was on the guest list for a reception on the occasion of the day of Heroes of Fatherland, 9 December.
This Peskov said that has no information about how called Utkina in the media and what actions they attribute to him.
Dmitry Utkin really was. He is the gentleman of order of Courage and he was really from Novgorod blastematic Pskovkaya also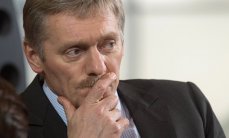 Sands promised to clarify whether Wagner at a reception in the Kremlin
To the question, why Utkin was invited to this reception, Peskov said that "invited the Heroes of Russia and holders of the order of Courage."
A Kremlin spokesman said it was difficult to say what exactly this man had been awarded, adding that usually these orders are given for courage.
Asked by journalists to clarify whether the "fighters" Utkina, referred to as the "Wagner group", now in Syria, Peskov said: "I don't know what he's got fighters, and I don't know whether they are in Syria, and I don't know if they have some kind of status. "The soldiers are at the Ministry of defence of the Russian Federation", — said the press Secretary of the President.
Comments
comments