The Governor of Primorye have estimated the damage caused by Typhoon "Lionrock"
Moscow. 13 Dec. INTERFAX.RU — Typhoon "Lionrock" that struck in the autumn in Primorye, has caused the edge damage of more than seven billion rubles, said the Governor of the region Vladimir Miklushevsky.
According to Miklushevsky, in 622 million rubles estimated the damage to agriculture. Almost 500 million rubles for emergency repair works of different nature, including the clearing of river channels, Bank protection. Damage to housing is estimated at 53 million rubles.
The Governor noted that almost all costs would be borne by the centre: "These seven billion rubles will be allocated to us, some on compensation are directed from the regional budget, but almost all of the remaining payments will be made at the expense of the Federal budget," — said Miklushevsky.
See also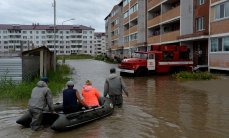 In Primorye, introduced a state of emergency at the Federal level
As reported, in late August — early September, Typhoon "Lionrock" brought to the region a three-month norm of precipitation. Followed by heavy rains in the region brought by the new Typhoon — "Namtheun".
The result was a flooded 170 towns and villages in 27 districts of the region. As a result of the Typhoon in the region was destroyed around 550 kilometers of roads, bridges 115.
In the region was introduced a state of emergency at the Federal level. At present, it is removed everywhere except for a number of municipalities of the region. The main volume of emergency recovery works in Primorye completed, repair work continues.
Comments
comments