Eremeeva witnesses failed to appear in court for questioning on the murder of Boris Nemtsov
Former commander of the battalion "North" interior Ministry troops of the Russian Federation Ruslan Eremeev and his cousin Arthur Eremeev has not appeared for questioning as witnesses in the murder of politician Boris Nemtsov, the Agency reports city news "Moscow" from hall of the Moscow district military court (MOVS).
"Witnesses Eremeeva did not come," said judge Yuri Zhitnikov.
Informed about their questioning sought lawyers for the family of the murdered politician.
See also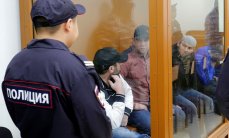 the court in the case of Nemtsov decided to call in for questioning Eremeeva fan
MOVS 3 October 2016 has started consideration on the substance of criminal case about the murder of politician Boris Nemtsov, which are considered in the presence of the jury.
In the dock: Zaur Dadayev, brothers Anzor and Shadid Gubareva, Temirlan Eskerkhanov and Khamzat. Depending on the role and degree of participation they are charged with committing crimes under PP "W, h" of part 2 of article 105 of the criminal code ("Murder committed by an organized group on hiring") and part 3 of article 222 ("Illegal acquisition, transfer, storage, transportation and carrying of firearms and ammunition committed by an organized group"). The defendants "carefully prepared murder, has studied the way of life of Boris Nemtsov, of his place of residence and frequent stay, covertly surveilling him, picked the method and place of attack, and choosing appropriate weapons, vehicles, communications equipment, determined the means and escape routes".
Photo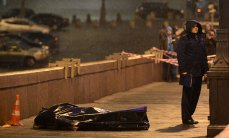 Killed Boris Nemtsov
According to investigators, the alleged organizer of the murder of Ruslan muhudinov suggested the defendants in the case, not having permanent source of income, for a cash consideration of not less than 15 mln. to commit murder of Boris Nemtsov. Z. Dadaev is the direct executor of murder of Boris Nemtsov. He initially gave a confession against himself and the other detainees, but the court denied his words, saying that he pleaded guilty under pressure. Of the confession, also refused A. Gubarev. At the last examination he stated that the murder was committed Beslan Shavanov. The other defendants profess their innocence in the murder of Boris Nemtsov, and claim that he did not know the policy.
Criminal proceedings against B. Shabanova terminated in connection with his death as a result of suicide bombing during the arrest. With the approval of the Basmanny court of Moscow in absentia arrested the alleged organizer of the murder of R. muhudinov, held November 2015 in the international wanted list.
Boris Nemtsov was killed on the evening of February 27, 2015 while walking with a Ukrainian model Anna Duritskaya on the Big Moskvoretsky bridge. The policy was made some shots, he died on the spot.
Comments
comments