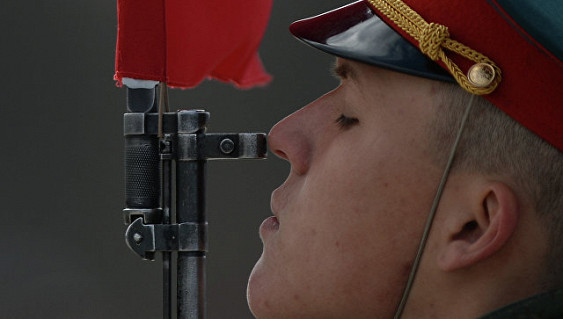 Photo:
RIA Novosti
The Minister of defence of the Russian Federation General of the army Sergei Shoigu unveiled a monument to "Soldiers of Victory" in National defense control center of Russia in Moscow.
"Heartily congratulate you on the Heroes of the Fatherland Day. This holiday unites all who in different times defended the sacred, inalienable right of our people to be consolidated and independent. Who is the model of selfless service to Russia, of courage and perseverance, of courage," said the Minister at the opening ceremony of the monument.
He stressed that "the share of Russia dropped a lot of harsh military trials, but always the biggest burden fell on the shoulders of the common soldier, who in civilian life was a hard worker, a Creator, in hard times became a warrior, a protector."
"Now, who is the main character in the war. Now, who is the main Creator of victory. It is in his honor today, we have opened a monument to "Soldiers of the Victory", — said Shoigu.
He said that the sculpture created by renowned sculptor in the Studio of military artists named after Grekov Mikhail Mikhail Pereyaslavets.
"One of the prototypes of the "Soldier of Victory" was his father, a veteran of the great Patriotic war, the fighter pilot, who is now 98 years", — said the head of the defense Ministry.
The bronze sculpture group, representing the collective image of a Soviet soldier during the great Patriotic war, mounted on a marble pedestal in the atrium of the National center of defense of the Russian Federation at the initiative of the Minister of defence.
Comments
comments