Maduro likened to the Grinch because of the five million of confiscated toys
Critics of Venezuelan President Nicolas Maduro called him "the Grinch — stole Christmas" due to the fact that the authorities of the country on the eve of confiscated five million children's toys from a private company.
On Sunday, December 11, according to CNN.
"Nicolas Maduro is a modern Grinch?", — leads the channel the entry of a citizen of the country in Twitter.
See also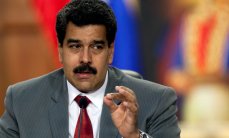 the Two nephews of the President of Venezuela were convicted of drug trafficking
Agency for consumer protection of the country explained the decision to confiscate the toys so that the distributor intended to sell them at inflated prices. The head of the Agency William Contreras (Contreras William) noted that a company that "has committed fraudulent acts against" the country "does not care about the rights of our children to a happy Christmas."
The Venezuelan government said that the seized toys will be available to poor families at lower prices than the market, reports CNN.
Nicolas Maduro became President of Venezuela in April 2013. He became the successor of Hugo Chavez, who died in March of that year from cancer. In October 2016, the Parliament voted to start the impeachment process Maduro.
"How the Grinch stole Christmas" — the film American production 2000. In the film the Grinch is a green creature that decides to steal from the residents their favorite holiday — Christmas.
Comments
comments