The defense Ministry rejected the version of fault of the pilot in the crash of the su-33 in the Mediterranean sea
Previously, "Kommersant" reported that, in the opinion of the Commission, the brake cable could break due to pilot error during landing.
Moscow. 8 Dec. INTERFAX.RU — the Russian defense Ministry denied reports that the Commission came to the preliminary conclusion that the su-33 from the wing of the cruiser "Admiral Kuznetsov" crashed due to pilot error.
See also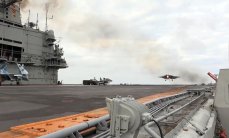 the media found out about three possible causes of the fall of the su-33 with "Admiral Kuznetsov"
"The Commission continues the meticulous work and any preliminary findings before completion of the investigation did," — said to "Interfax" on Thursday in Department of information and mass communications of the Russian defense Ministry.
Previously, the newspaper "Kommersant" reported that the cause of the accident on avianese the cruiser "Admiral Kuznetsov" could be the human factor.
The publication, citing a source close to the Main headquarters of the Navy, and the top Manager of the enterprise of aviation industry said that the experts of the Commission investigating the incident, are inclined to believe that the "pilot exceeded the maximum allowable deviation of the axis of the landing, thus creating excessive stress on the rope".
As a result of incident, the newspaper said, "was lost the car bearing the number 67 red."
The Russian defense Ministry said in response that the information "about the alleged preliminary findings of the Commission on investigation of causes of the crash of the su-33 is absolutely not true."See also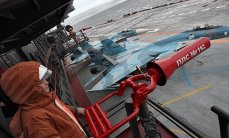 the crash of the su-33 looking for the human factor
The incident with the su-33 in the Mediterranean — the second in the last month. On 14 November it became known about the crash of the MiG-29 while landing a few kilometers to "Admiral Kuznetsov", the pilot ejected.
In the composition of the air group "Admiral Kuznetsov" — carrier-based fighters MiG-29 and su-33 multi-purpose helicopters Ka-27 and helicopters of radar-tracking patrol of Ka-31. In addition, for the "Admiral Kuznetsov" was prepared reconnaissance and attack helicopters of the new generation of carrier-based Ka-52K "Katran" (naval version of Ka-52 "alligator"), previously reported "Interfax".
On 15 November the Russian military leadership announced that the fighter wing "Admiral Kuznetsov" for the first time involved in military operations in Syria.
Comments
comments