Japan decided not to give Putin another dog breed Akita inu
Representatives of the Japanese government had been associated with the Russian side and got the answer that this time the dog will not be accepted.
TOKYO, 9 Dec. /Offset. TASS Cyril Agafonov. The Japanese government left plans to give the President of Russia Vladimir Putin another dog breed Akita inu during his stay in the country on an official visit, which is scheduled for December 15-16. This is stated in a message posted Friday on the website of the Deputy Secretary-General of the Japanese Cabinet of Ministers of coity Hagudi.
As noted, the Japanese side "had contacted the Russian", and, "unfortunately, at this time," the dog will not be accepted.
Earlier plans to give Putin Akita inu informed the Secretary General of the Cabinet Yoshihide Suga.
See also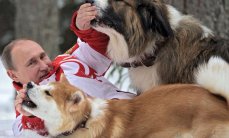 Japan wants to give Putin another dog breed Akita inu
"We discussed this possibility (with Moscow), but haven't received a positive response," he said at a meeting with members of the livestock Association, specializing in the breeding of this breed.
In 2012, Japan gave Putin a puppy Akita inu named Yume, which translated from Japanese means "dream". It was a gift from the Governor of the Northern Akita Prefecture Satake of Norihisa as gratitude for the assistance that Russia has provided Japan after the natural disasters of March 2011.
In response Putin gave to the Governor of Akita Siberian cat. Satake did not mention the animal in Japanese, and chose the Russian word "Mir", which in local transcription sounds like "peace."
Japanese dog breed Akita inu is known worldwide thanks to the movie "Hachiko".
Comments
comments