Named the most unpopular tourist region of Russia
Experts have made a rating of tourist attractiveness of Russian regions, their tourism potential and popularity among domestic and foreign tourists.
To conduct the study were selected criteria such as the total number of seats in hotels, the percentage of people employed in tourism local people, the amount earned in this industry, how many times in hotels in the region spent the night as guests from Russia and from abroad, the popularity of the Internet and other, according to the website of the center for information communications "Rating".
This year the leader of the rating was deservedly the Russian capital.See also
Moscow entered the top 7 attractive cities for National Geographic
Moscow with a huge margin ahead of the other regions by such indicators as the volume of paid tourist services, twice passes its nearest competitor in leadership — Saint-Petersburg — the number of foreign tourists.
Northern capital as a year ago, solidly in second place. But the leader of last year — Krasnodar Krai — moved to the third position. Sochi, the main tourist destination of the region, with almost 100% loading during peak season, already struggling to cope with the flow of tourists, the report said.
Again close the five of leaders of the Crimea and Moscow region.
The Crimea, with the lowest crime rate, is also the leader of the five and the number of searches on the Internet, and the number of publications in the media. And the number of tourists accommodated in hotels of suburbs, slightly less than in the capital itself. Also in the top ten came in Nizhny Novgorod oblast, Altai Krai, Republic of Tatarstan, Kaliningrad oblast and Primorsky Krai.
At the bottom of the rankings got almost all the regions of the North Caucasus, with the exception of Stavropol region, part of the remote regions of the Far East, Siberia, Ural.See also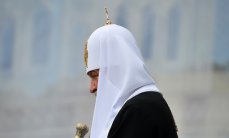 Patriarch Kirill spoke about Christianity with the reindeer herders in the tundra
As can be seen from the table, the regions of the third group are economically weak, they are characterized by low incomes in the tourism sector and poor infrastructure. Many of them are seriously engaged in development of tourism on its territory and achieve good results.
In last place was Chukotka, for the most part located North of the Arctic circle, where winter lasts ten months of the year and has a boundary regime.
The region has the lowest crime rate in the country, but, unfortunately, the low performance in other criteria of the National tourist rating.
Comments
comments