The writers ' Union spoke out against Harry Potter in the school curriculum
In the Union of writers of Russia were opposed to the inclusion in the school curriculum of books by JK Rowling about Harry Potter.
The National news service (NSN) said the Chairman of the organization Valery Ganichev Thursday, December 8.
Fiction, but even so, it is not necessary to enter. I am totally against. It is necessary to introduce real books: Russian classic, and foreign — English, francescougolini Cancelreservation of the Union of writers
He said that he did not read the books Rowling.
According to the Chairman of the Union, "one must possess great skill, tact and teachers, and parents to find books that can and should be read." "They're in our literature is, with them life is carried out," he said.
See also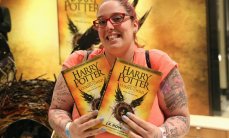 Harry Potter and the difficulties of translation
December 7, the Deputy of Legislative Assembly of Leningrad region Vladimir Petrov proposed to include in the curriculum a series of books about Harry Potter. A draft of the appeal the MP is going to transfer to the Minister of education and science Olga Vasilyeva through the legislative Assembly of the region. So he wants to instill in the students an interest in contemporary literature.
Earlier in the day, started selling eighth book, "Harry Potter and the cursed child" in Russian. The first book of JK Rowling about the young wizard came out in 1998. The novels have been translated into 77 languages and published a total circulation of more than 500 million copies.
Comments
comments