The leaders of the special operation near Kiev suspended due to the death of five security officials
Moscow. 6 Dec. INTERFAX.RU — Acting head of the national police of Ukraine Vadim Troyan has suspended three heads of departments at the time of the investigation the circumstances of the tragedy in the village knyazhichi where in a skirmish killed five law enforcement officers.
As reported on Monday the press service of the national police, the decision of the T. at the time of investigation from the performance of official duties removed the heads of three operational units of national police in Kiev, which was responsible for conducting a special operation in the village knyazhichi, Kiev region Brovary district, Kyiv region.
Read also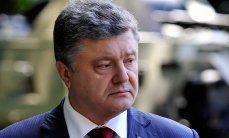 Poroshenko commented on the deadly exchange of fire security forces near Kiev
Also removed all the personnel who took part in the operation.
The report notes that the decision adopted by the management agencies to provide a full and comprehensive investigation.
As reported, during the special operation of national police of Ukraine and special forces KORD to apprehend the robbers in the village knyazhichi near Kiev on Sunday night due to unforeseen circumstances skirmish with representatives of the state security service, during which killed five law enforcement officers.
Comments
comments