TFR filed a case to the senior investigator of the TFR for a bribe
Moscow. 6 Dec. INTERFAX.RU — the investigator of the Central office of the TFR detained and arrested on suspicion of receiving a bribe in $50 thousand, reported the official representative of Department Svetlana Petrenko.
"The Investigative Committee of Russia opened a criminal case against senior investigator for particularly important cases of GSU SK of Russia the Colonel of justice Alexander Sorokin under part 6 of article 290 of the criminal code on the fact of receiving a bribe in especially large size", — Petrenko said on Tuesday, "Interfax".
According to the investigation, Sorokin received from the lawyer a bribe of $50 thousand for the performance of procedural acts on the criminal case before it in production.
Sorokin detained and arrested, said Petrenko, the criminal investigation is charged with the first investigation Department of the main investigation Department of the TFR.
See also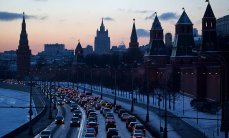 the Kremlin is preparing a "revision" of the regions ' efficiency
"The investigative Committee is always quickly and firmly responds to every violation of the law, including corruption in their ranks, regardless of rank, position and past achievements. While the leadership of the TFR never had any doubts, to initiate or not to initiate a criminal case against the employees if there were grounds," — said the representative office.
"It is constant work to prevent and detect corruption and especially in their own ranks is one of the main components of the investigative Committee, which gives us not only a statutory but also moral right to react harshly to any facts of corruption, including employees from other law enforcement agencies and officials of any rank, regardless of positions and titles," she said.
Comments
comments