Investigators have arrested the Director of sport school in the case of an accident in KHMAO
With Irina Tarasova conducts investigations.
YEKATERINBURG, December 6. /TASS/. Investigators have detained the Director of sports school "Siberian" Irina Tarasova in the case of the death of 12 people in an accident in the Khanty-Mansi Autonomous district. This information was confirmed by TASS in the Department of public and external relations of the regional government.
See also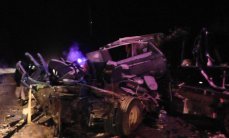 the Deaths of children under Khanty-Mansiysk. New details
"We confirm that Tarasova was detained with her investigative measures", — said the Agency interlocutor.
In a press-service of regional Investigatory management SK the Russian Federation and the sports school in the detention Tarasova has not yet commented.
According to the Palace of sports "Siberian" in Nefteyugansk, Irina Tarasova — honored worker of education of the Russian Federation with teaching experience of 10 years.
On Sunday collided with a truck, two cars and a bus from Khanty-Mansiysk to Surgut. The accident killed 12 people.
According to the district hospital just on the treatment of the remaining 17 patients, victims of road accidents. Two adults have already been discharged, also decided to convert the three children from the resuscitation ward to the Department of neurosurgery.
Upon accident criminal case under part 5 of article 264 of the criminal code and part 3 of article 238 of the criminal code ("Violation of traffic rules, entailed on imprudence death of two or more persons"; "Rendering services not meeting safety requirements"). Earlier, the Governor of KHMAO Natalia Komarova gave instructions to provide maximum assistance to the investigation in the criminal investigation.
Comments
comments