Estimated budget expenditures for the elections
The CEC has estimated Federal spending in the elections to the state Duma of the seventh convocation. On Tuesday, December 6, reports TASS with reference to data of the CEC.
Only the preparation and conduct of the single voting day was allocated to 10.9 billion rubles, spent only 10,3 billion rubles, reported to the CEC. All unspent money will be transferred to the budget within three months.
The funds saved is mainly due to the fact that in most regions of Russia simultaneously with the Federal elections campaign was carried out in the local authorities.See also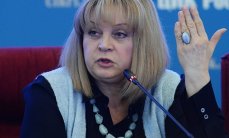 Pamfilova ready to sue for libel on elections
As a result, the portion of the expenses, including transportation and maintenance of polling stations and took the local budgets.
Earlier on Tuesday it became known that the Central election Commission revealed the receipt of illegal donations to campaign funds of political parties during the election campaign in the amount of 400 million rubles. All funds returned to the donors and to the budget.
Parliamentary elections were held in a single voting day, September 18. The state Duma passed the six parties and one independent candidate. "United Russia" has received 344 of the mandate of the Communist party — 42, LDPR — 39. "Fair Russia" won 23 parliamentary seats. In addition, the Duma has got two single-seat districts from "homeland" and "Civic platform".
Comments
comments