The defense Ministry confirmed the death of Russian medics in Aleppo
Fired by the Russian military mobile hospital deployed in Aleppo, one person died. About it "lente.ru" reported in the defense Ministry.
7фотографий7фотографий7фотографий
The attack by militants occurred with 12:21 to 12:30 GMT during the reception of the locals.
Video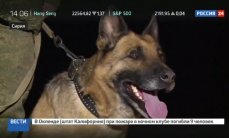 to Clear Aleppo will help Russian dogs
"As a result of a direct hit mines in the emergency Department of the hospital one Russian soldier-medic died. Two medical workers were seriously injured. Affected local residents attending the reception to the doctors," — said the representative of the military Department Igor Konashenkov.
The source Agency "Interfax" reported that one of the victims — a pediatrician.
The Russian mobile hospital was sent to Aleppo at the end of November on the orders of President Vladimir Putin. From the Ministry of defence had deployed doctors special purpose with multi-function hospital on 100 beds, including a children's medical ward. The daily capacity of outpatient treatment is 420 people.
From the Ministry of emergencies in Syria has sent a mobile hospital with 50 seats, inpatient treatment, outpatient skip to 200 people a day.
Comments
comments